Welcome to Leitheatre
We are taking part in the SCDA One Act Play Festival. The Edinburgh District Round is being held at the Church Hill Theatre in Morningsdie Road. The Youth Festival is on Thursday 17th February at 19:00, the Open Festival is on Saturday 19th February at 18:00. Our 2 entries are - The Resurrerectionist by Robert Allan and The Wall by Fiona Schofield. Tickets are on sale HERE. £14 per evening.
Burns Show available for booking!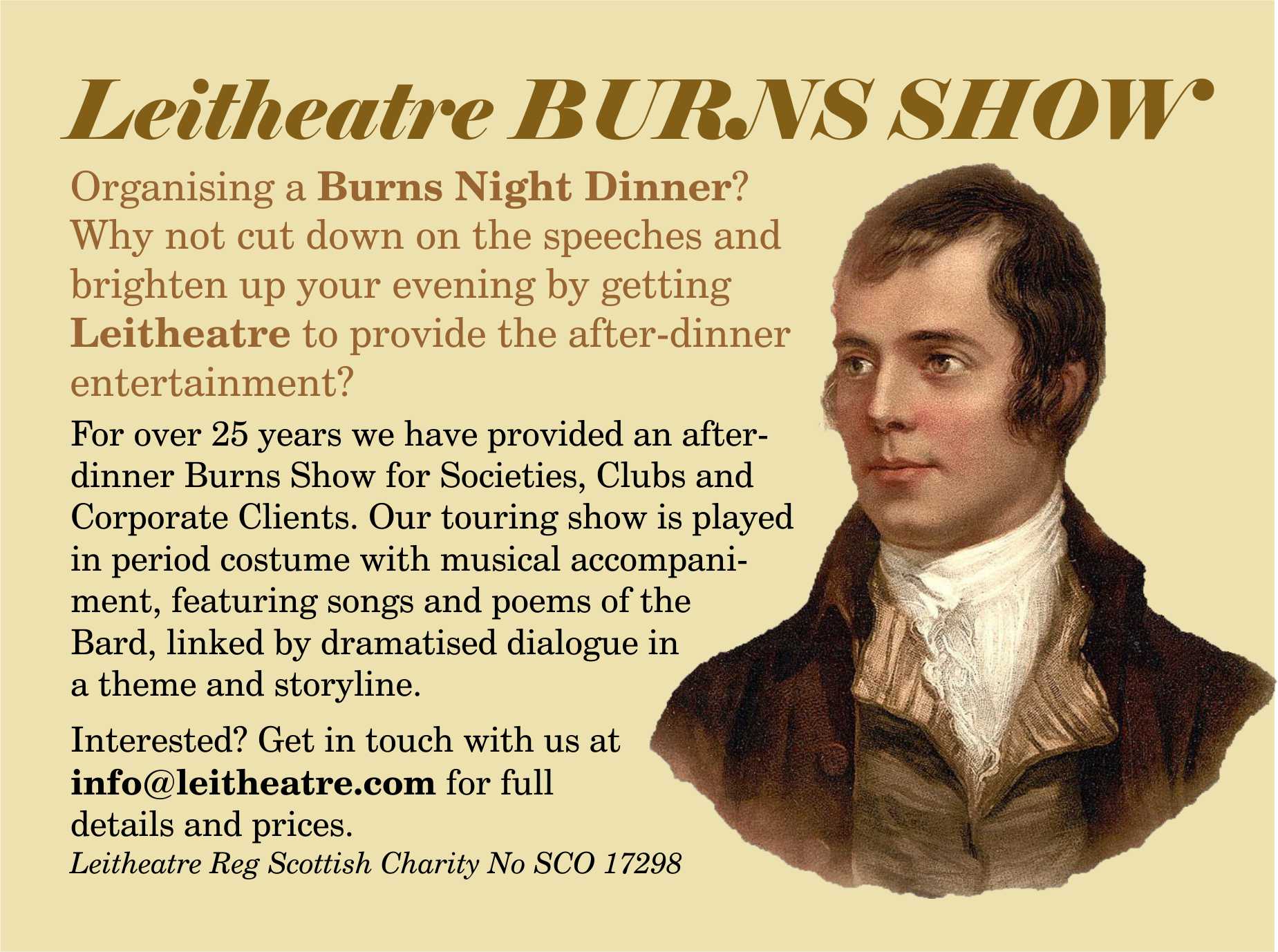 We took part in the SCDA Edinburgh District Online Festival last Spring
You can watch out entry, Tangled Souls, on YouTube here
If you want to find out more about the club, please use the 'Contact Us' button above.
Leitheatre is an amateur theatre group based in Edinburgh. We usually produce three full length productions per year, including one in the Edinburgh Festival Fringe. We also take part in the Scottish Community Drama Association (SCDA) One Act Play Festival. Our productions take place in the Church Hill Theatre, the Studio Theatre and Inverleith St Serf's Church Centre. We also produce a Burns Show in January to celebrate the birth of Scotland's Bard, Robert Burns. This show is performed for other organisations such as Golf Clubs, Care Homes and other social clubs. If you are interested in booking the Burns show, please get in touch via the 'Contact Us.' button above.
On the Our History page, you will read how our roots are in Leith but we perform in venues and theatres all over Edinburgh. We are not connected to Leith Theatre, in Ferry Road. You can find information about that organisation here Leith Theatre Trust .